microCORE
microCORE camera-core
MWIR continuous zoom light & small Cooled Thermal imaging camera core
Technical Specification
microCORE is a continuous zoom, high performance light & small thermal camera core designed for airborne platforms, handheld volume restricted mobile systems.
microCORE contains:
640×512 pixels, 15 or 10μm pitch cooled focal plane array in the 3-5μm waveband.
TVPE-15/V – Video Engine driving electronics.
F/3.6 or F/5.5 Continuous zoom motorized lens.
The Ethernet or RS-232/422 remote control capability permits ease of integration into any client-based security system.
RP Optical Lab provides leading-edge IR equipment to the security and surveillance sectors. RP's proprietary optical designs, state-of-the-art laboratories ensure maximum performance and dependability.
SYSTEM MAIN FEATUTES:
• Motorized focus/zoom
• Continuous zoom
• Auto & Manual focus
• Focus maintained while zooming
• Unique zoom module with zero optical artifacts
• Optical NUC & 1 command "1 point NUC Calibration"
• Image enhancement including local DRC
• Ruggedized construction
• Digital output option – Camera link

Download Product Brochure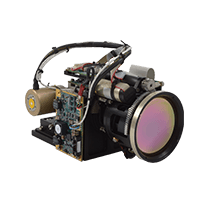 | SYSTEM | | |
| --- | --- | --- |
| Video Format | NTSC or PAL | Additional option: SDI or CameraLink |
| Communication Protocol | RS-422 Full Duplex/ Ethernet | |
| Power Requirements | 12VDC +/-3% regulated, 11W | Average nominal power |
| Controls | Fully Remote controlled | |
| Electronic Zoom | X1.5 / X2 / X4 | |
| Focus control | Manual / Automatic | |
| Total Weight | Not exceeding 860 gram | |
| External Dimensions | Not exceeding 167mm (Length) x 101mm (Width) x 92mm (Height) | |
| Mount / Mechanical Interface | Please refer to Mechanical ICD | Customized interfacing - available |
| Operating / Storage Temp | -32ºC to +65ºC / -40ºC to +71ºC | |
| Shock and Vibrations | Per MIL-STD-810E | |
| SENSOR | | |
| --- | --- | --- |
| Detector FPA | 640x512 pixels | |
| Sensitivity | < 30mK | Please consult for better sensitivity |
| Cooler life time MTBF | 8,000 hrs for standard cooler | 18,000 hrs for long life cooler. |
| Detector cooling time | < 7 minutes | |
| OPTICAL | | | |
| --- | --- | --- | --- |
| F# | | F/3.6 or F/5.5 | |
| Spectral Range | | 3 – 5 μm | |
| Zoom / Focus readout | | Zoom and focus position values are transmitted over the RS422 / Ethernet control communication bus. | |
| Zoom position repeatability | | To within ± 2% | |
| Thru zoom boresight | | <0.15mm Radius at focal plane | |
| Boresight Retention accuracy | | <0.09mm Radius at focal plane | |
| | | | P/N |
| Horizontal FOV | 15-115mm | 3.2°(N) x 24°(W) | S115 |
| | 25-170mm | 2.2°(N) x 14.5°(W) | S170 |
| | 15-230mm | 1.6°(N) x 24°(W) | S230 |
| | 18-275mm | 2°(N) x 29°(W) | D275 |
| Focus / Zoom mechanism | | Motorized, remotely controlled | |
| RANGE PERFORMANCE | | | | | | | | |
| --- | --- | --- | --- | --- | --- | --- | --- | --- |
| Model | S115 | | S170 | | S230 | | D275 | |
| Target | Human | NATO | Human | NATO | Human | NATO | Human | NATO |
| Detection | 7.5 | 10.1 | 8.9 | 12.2 | 9.9 | 13.2 | 8.6 | 12.4 |
| Recognition | 1.8 | 4.4 | 2.7 | 6.5 | 3.6 | 8.8 | 2.9 | 7.0 |
| Identification | 0.9 | 2.2 | 1.3 | 3.2 | 1.8 | 4.4 | 1.4 | 3.5 |