VIDEO ENGINE
Advanced Video Processing Engine for Cooled Thermal Imaging Systems.
Introducing a high-performance video processing engine for cooled thermal systems. This engine provides the most advanced image enhancement and processing with unmatched performance. Ideal for security and surveillance systems, this configurable and flexible engine will easily provide superior imaging and performance to even the most demanding thermal imaging applications.
PROCESSING FEATURES:
• 2-Pt NUC (64 Tables)
• BPR (bad pixel detection and replacement)
• Contrast Limited Histogram Equalization
• Local DRC Contrast Enhancement
• Sharpening and 5×5 Convolution Kernels
• Noise Reduction
• Adaptive Temporal Filter
• Auto NUC table and integration time selection
• Image Statistics
• Autofocus
• Proprietary Detail Enhancement and
• Noise Reduction Algorithm.
MANIPULATION FEATURES:
• Color Palettes
• Gamma Adjustment (Power-Law)
• Manual/Auto Gain and Level Control
• Polarity (White-Hot/Black-Hot)
• Digital Zoom
• Freeze
• Reticle/Cross-Hair and User Image Overlay
• Image File Capture and Display
• User Splash Screen

Download Product Brochure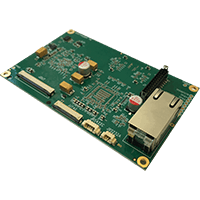 | Supported Detectors | |
| --- | --- |
| Type | Cooled Digital Detector |
| Image size | VGA (640 x 512 pixels) |
| | XGA (1,024 x 768 pixels) |
| | SXGA (HD ready - 1,280 x 1,024 pixels) |
| Interface | Camera link and similat LVDS interface |
| PCB specification | |
| --- | --- |
| Processor | 1.2 GHz DSP + FPGA |
| Memory | 256 MB RAM, 256 MB NAND (flash storage) |
| Communication | Gigabit Ethernet (TCP/IP), 4x RS232/422 |
| Power Input | +12V DC |
| Power Consupation | ~4 Watts |
| PCB Size | 112mm x 70mm |
| Video Input/Output | |
| --- | --- |
| Frame Rate | True 60 Hz Processing and Output for SXGA (1,280 x 1,024) Resolution. True 180Hz for VGA (640x512) Resolution. |
| Detector Image Sizes | Up to 1280x1024 |
| Output Formats | NTSC/PAL 525i/525p, 625i/625p 720p, 1080i/1080p |
| Analog Output | YPbPr Component and Composite |
| Digital Output | Camera Link |
| Sync | Internal or External Sync |
| Latency | 32 ms in 60 Hz full processing mode, or 5 lines in low-latency mode. |
| System and Peripheral Controls | |
| --- | --- |
| System Control | RS232, RS422, Ethernet TCP/IP, Camera Link UART |
| Lens Control | Autofocus Zoom and Focus via RS422/232 Protocols Auto NUC Table Selection using Zoom Position Focus Maintaining during Zoom |
| Sync | External or Internal Video Sync |
| Ordering information | |
| --- | --- |
| P/N | Detector supported |
| TVPE-15/V | Supports VGA (640 x 512) detectors |
| TVPE-15/X | Supports up to SXGA (1,280 x 1,024) detectors |